Like all the cycle tourers with a website, here is my gear list. Rather detailed, as it's also the first thing I look at on other websites. On the other hand, it is not that relevant as I think one does not need more than a random bicycle and a few things in a bag to start. I have done thousands of kilometers with a single-speed groceries shopping bicycle (mamachari) and a day trip backpack in the front basket. For less than $200 in total, it went almost as fine as with top quality gear, that breaks as well.
Sure, I was not cooking and depending everyday on shops, and I would be in trouble if camping outside under heavy rain. Sure, I pushed a lot in the hills. Even bent a bottom bracket spindle while forcing uphill, proof that human thighs can become stronger than metals made in China. But I have great memories of those trips and the riding feeling is the same.
Now that I can afford more comfort and reliability, and gadgets, I have done a careful procurement and maintained an inventory. Everything must fit in my panniers of 2 x 24L (back) + 2 x 12.5L (front) + 7L (handlebar) = 80 liters, leaving space for food, extra water, and random stuff along the way. The bike is already 16kg, and the loaded panniers add up a lot (19 kg). It really feels like riding a truck, a feeling that I actually like, but I can't say it's serving me in the hills. However I can still carry the fully loaded bike on my shoulders for crossing a wide gutter or going through a staircase, for example.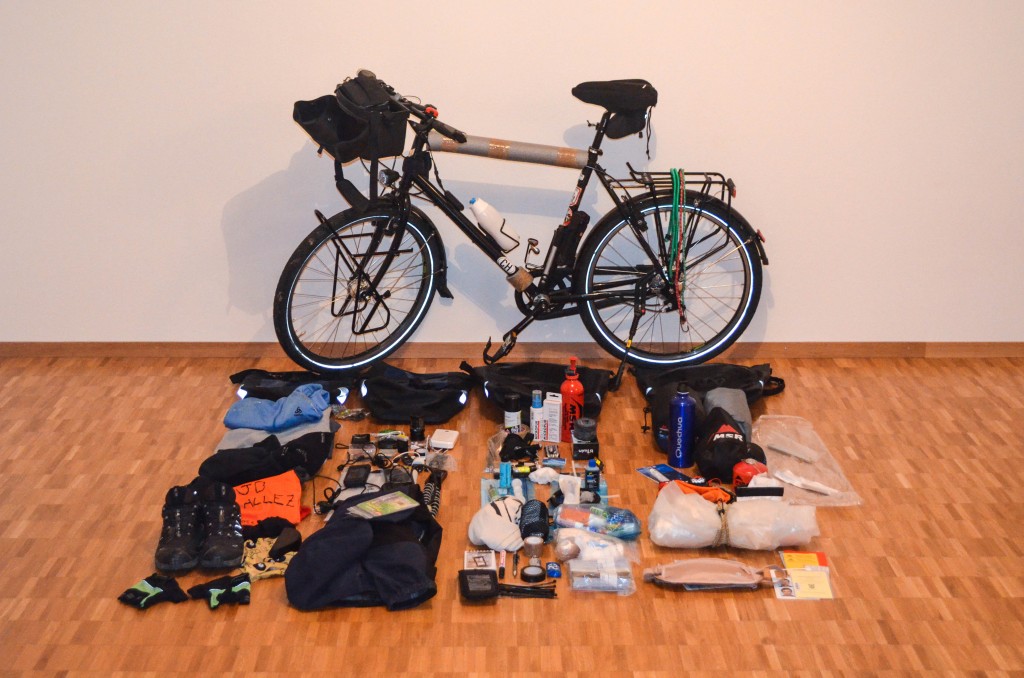 Item
Notes
BIKE
VSF Fahrradmanufaktur Expedition TX-400 Rohloff from mybike Waldshut
CrMo frame, 26″ wheels, Rohloff speedhub, Tubus racks, Magura HS11 hydraulic brakes, Schwalbe Marathon Mondial tires (1st set of tires lasted 12000 KM, 2nd one 13000 KM, 3rd one 1500 KM (was Mondial Performance instead of Evolution, big difference), 4th one is Mondial Extreme)
BIKE ACCESSORIES
Panniers back 2 x 24 L
Vaude Aqua Back
Panniers front 2 x 12.5 L
Ortlieb Front-roller classic
Handlebar bag 7 L
Ortlieb Ultimate 5M classic
Foldable hard lock
Trelock
Pump
Gel cushion saddle cover
B'twin
Rear-view mirror
Zefal, end bar
Toe clips
B'twin
Plastic bottle
Saddle bag
B'twin 0.4 L
Handlebar holder for smartphone/GPS
Bungee cords and bungee net
BIKE TOOLS & SPARE PARTS
Bike multitool + 4mm and 5 mm longer allen keys
Topeak Hummer II
Adjustable wrench
Flathead screwdriver
when tires levers are too weak to unmount rebel tires
Cleaning oil + Chain lubricant with teflon
Spare tubes 26″ 2″ (x2)
50/559 26″ x 2.00
Tube puncture repair kit + fast repair kit (just-patch-it)
Chain power links
SRAM, 8-speed chains (1/2″x 3/32″)
Spare brake pads (x4)
Magura hydraulic, black
Spare spokes
242mm (back) and 264mm (front)
Rohloff oil change kit
to be changed every 5000km
Rohloff spare hub cable
Rohloff spare sprocket and Rohloff sprocket removal tool
16T sprockets can easily last 10000 KM on each side
Hydraulic brakes service kit
Magura mini service kit
Spares Allen screws for racks, bottle cage
Spare tire
Cheap Chinese one, from Sahara onwards
Spare skewers
Hidden with spokes in the seat tube
Spare panniers hooks
Both Ortlieb and Vaude
CAMPING
Tent
Vaude Power Lizard UL, 1000g, packed 30cm x Ø10cm
Sleeping bag
Mountain Equipment Xero 250 XL, 680g, packed 25cm x Ø16cm
Sleeping mat
Thermarest NeoAir all season R4.9, 540g
Delaminated after 500 days, got cheap replacement
Sleeping bag liner (silk)
McKinley, 140g, 205x88cm
Swiss army knife
Victorinox Traveller Lite
Headlamp + spare AAA x3
Mammut T-trail
Tent pegs Y aluminium
Dry bag
Ortlieb 42L, useful to carry extra things on rear rack
Aluminium bottle
Quechua
Repair kit for waterproof fabrics (tent, panniers)
Strap
Plastic cover serving as tent tarp or bicycle bag
Multitool with pliers, type Leatherman
COOKING
Multifuel stove + fuel bottle
MSR Whisperlite
Cooking pot + handle
MSR Alpine Bowl
Lighter
Water purification
Katadyn Micropur Forte 100 mL + 100 tabs
Multi tool fork+spoon+knife
POWER, PHOTOGRAPHY & ELECTRONICS
Charger / Power converter from dynamo hub
Busch & Müller E-werk, output 2.8V to 13.3V, and 0.1A to 1.5A
Portable battery pack
Yoobao Long March 11200mAh
Universal battery charger (Nikon, Canon, Nokia)
Pixo C-USB
Spare batteries
Nikon EN-EL14 (7.4V 1050mAh) Nokia BL-5J (3.7V 1320mAh), Canon NB-4L (3.7V 760mAh)
Cables USB / micro USB
Electric plug international adapter
Wall socket (220V) to USB (5V 1000mA) adapter
USB "dumb" charge cable
USB with shorted data pins
Camera + 18-55mm lens
Nikon D5100
Compact backup camera
Canon Ixus 120IS, replaced (March 2014) with Canon PowerShot S95
GorillaPod (tripod)
Camera case
Think Tank Digital Holster 10 V2.0, fits perfectly in the Ortlieb handlebar bag
Notebook and photo processing
Samsung 530U3B-A02 + Lightroom 4 upgraded to 5.x
Nokia N900
wonderful device serving as phone, GPS tracker, GPS mapper, data backup, camera backup, netbook backup, dSLR remote control, notepad, WiFi tools and more
Portable hard drive
USB female-to-female connector
to use N900 in host mode (makes backup)
SD card 16GB (x2) + 4GB + 2GB
SD card reader
Repair parts
heatshrink tubes, 4.8mm plate connectors
CLOTHING (climate-specific and rather disposable)
Trail shoes
Salomon XA Pro 3D XCR 2, died in Angola, replaced with many China-shop pairs until a pair of Keen Verdi
Light hiking pants convertible
North Face Kathmandu, died in Spain, replaced with a Décathlon Quechua Forclaz (10 months per pair of pants)
T-shirt (x2)
Socks & underwear (x2)
Bike gloves
Roeckl, lost one in Guinea-Bissau, replaced one in Guinea, renewed both in Angola
Snowboarding socks
long and warm, not suitable after Morocco
Headscarf / Shesh
for the desert
Sunglasses
Long-sleeves sweater
Jacket
North Face Kathmandu, not needed between Senegal and Namibia
Poncho
Long johns
Hat & thin gloves
Swim short pants
Flip-flops
Good for the flooded roads of the rainy season, for buckets showers in the mud/insects, and for rest days
Reflective safety jacket
when there's no choice but riding in the fog, rain, or at night
HEALTH
First aid kit (plasters, aspirine, antiseptic spray, pills, …)
Mini swiss army knife
Synthetic towel
Vaude 90cm x 60cm, forgotten in Morocco, replaced with a Cape Union Mart fast-dry towel
Soap, shampoo
Suncream
Mosturizer cream
Toothbrush, toothpaste, dental floss
Chubstick
Earplugs
camping = rain, wind, birds, traffic
Dry bag
Vaccination booklet + yellow fever certificate
Mosquito net
from Senegal and further
Malarone/Malanil emergency pills against malaria
from Senegal and further
Doxycycline tablets for malaria prophylaxis
from Senegal and further
MISC.
Pen & marker pen
Cable ties
Black duct tape
Brown duct tape
Mini sewing kit
Silicone seam sealer
(SiliNet) To repair tent and panniers
Combination padlock
Safety pins
Postcards
Paper maps, Michelin 741 (North Africa) and Michelin 746 (Central & South)
useful for long-term planning, with Google Maps and OSM on my GPS app for everyday use
Money belt & travel documents (IDs, insurance, licenses, copies)
Proof of purchase of the bike
can be useful with tricky immigration officers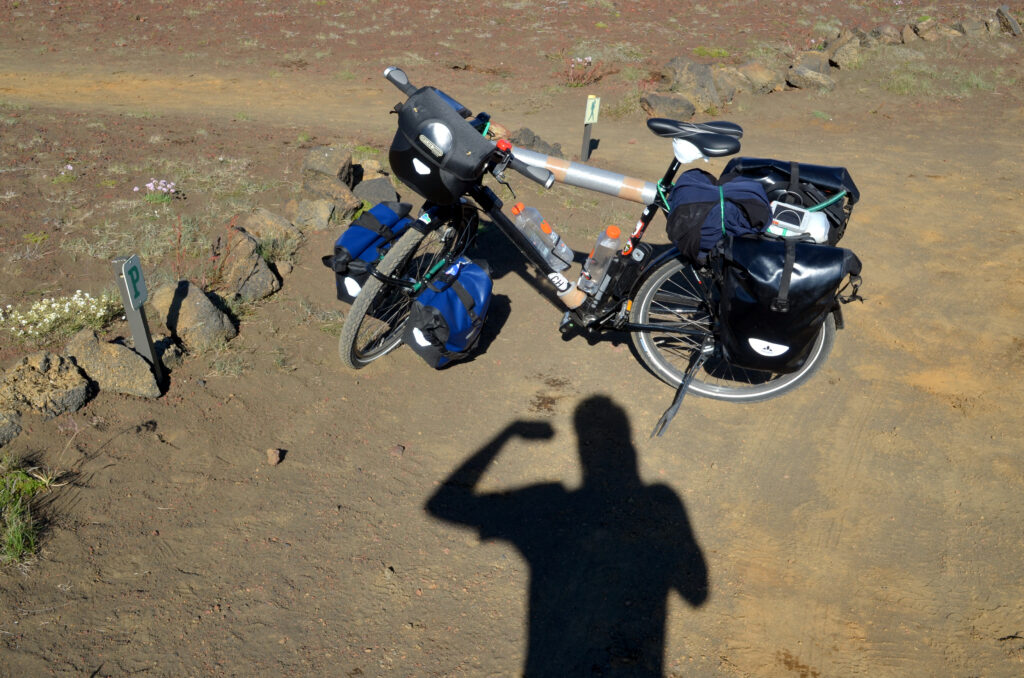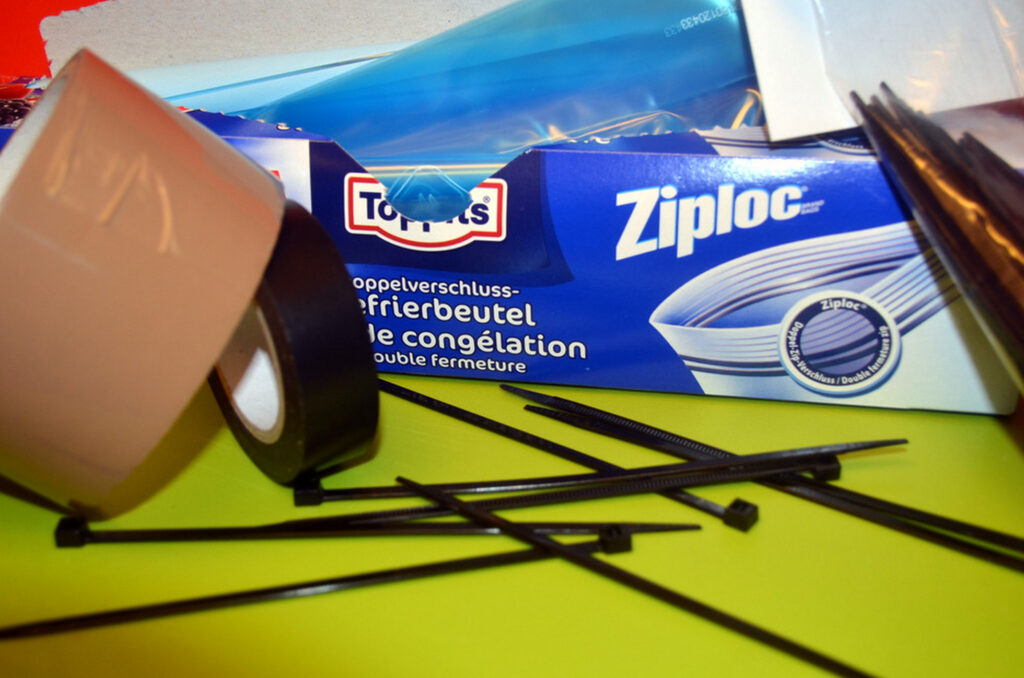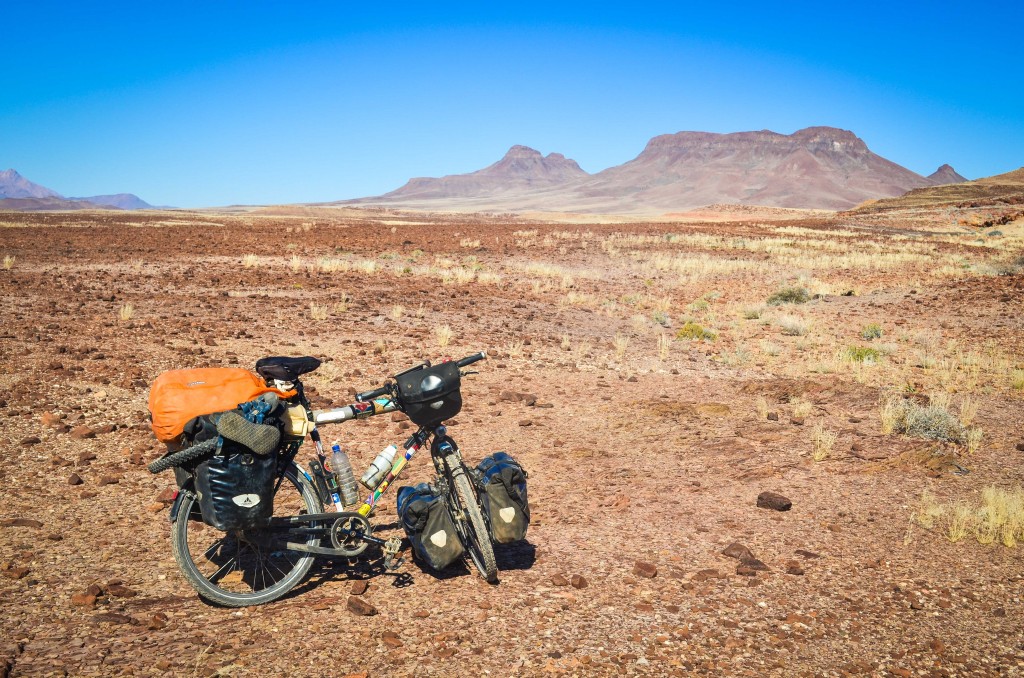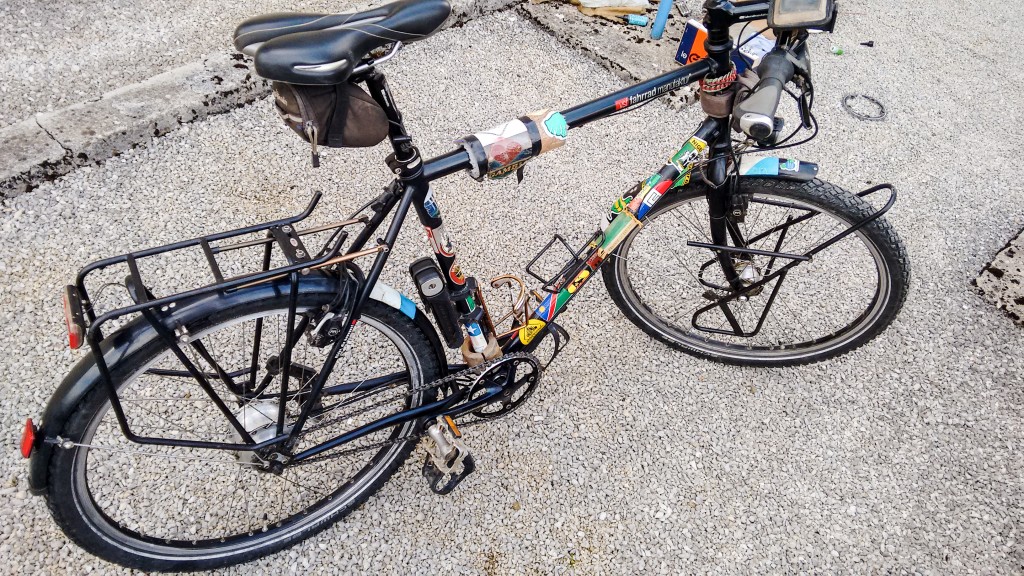 In April 2018, fours years after that initial list, I toured the Highlands of Scotland for two weeks. Upon my return, I listed everything I had carried. I carry more small repair bits, accumulated over time.