What about a trip into the Sperrgebiet? With all the luck I had so far (not really, but the relative lack of bad luck makes me quite lucky), it's not unreasonable to allow myself to believe that I can bump into a diamond, sell it, and take holidays after my cycling trip.
The Sperrgebiet, "prohibited area", is a piece of land (26000 km²) almost as big as Belgium that is reserved for mining diamonds. It covers about 320 km of coastline, and extends about 100 km inland. It's forbidden to enter this area, with a few exceptions: the town of Lüderitz, on the coast, and the road leading to it.
Despite the broken bit of frame and the repair I had to go through two days ago, I am still too curious to bypass Lüderitz. If I want to be sure to get to Cape Town with my just-repaired gear, I should go south now, and avoid the extra 120 km to Lüderitz, and back via the same road. If you look at the map, you'd really need a good reason to go to that dead-end. But just because no one would go there, and because it's in the prohibited area, and also because the road is tarred for my weak rear rack, that's enough reasons to make me go.
My night in Aus has been freezing, even though I decided not to sleep outside. After a warm shower to resume from hibernation, I'm ready to go, but rather late.
It is very windy, and in the right direction! Plus, Aus is 1500 m high, meaning that I have a tailwind-powered 1500 m elevation drop until the coast. So these 120 km are my objective for the day.
If I have downhill + tailwind to deal with these 120 KM, then how will I go back up? And since it's almost noon, it's not even guaranteed that I reach Lüderitz today. As I will be cycling through the Sperrgebiet today, I don't expect to see any shelter, so my plan is the following: 1- cycle as fast as possible to Lüderitz and limit my photo breaks. 2- rest a few days in Lüderitz, as I've not done that since Windhoek. 3- climb back to Aus in two days, visiting the ghost mining town and the wild horses on the way, and sleeping at the least impractical spot I would have noticed on the way down.
I complete my first 20 kilometers without moving my legs. It's not a joke, that tailwind is magic. I try not to count how many hours it will take me to go back if that wind remains the same, and enjoy the desert scenery scrolling by me at a fast speed.
I quickly reach Garub, a place name without any living human, known for its wild horses, but I continue straight. It will make a nice break from the headwind on my way back, just before the long ascent.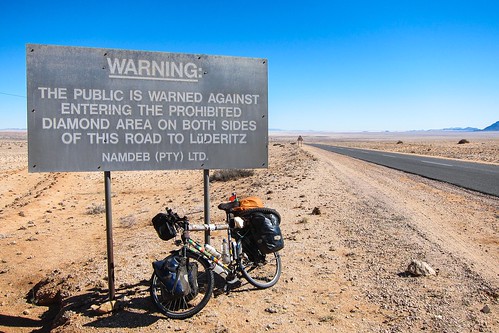 So why is the Sperrgebiet so big? The mining only takes place in 5% of the restricted land area, along the coast. In the times of German South-West Africa, the Germans have declared this area as Sperrgebiet in 1908, following the discovery of diamonds. The Germans were there in the first place because it was their entry point of the colonization of present-day Namibia. They founded the town of Lüderitz even before Swakopmund. And while building a railway through the desert to get inland, they bumped into these diamonds.
So as to make sure no one else comes too close, they set the eastern boundary of the Sperrgebiet a hundred kilometers inland. In the early 1900's, that distance and the completely inhospitable environment were enough to deter anyone to travel to the diamonds.
While cycling fast, I try to spot all kind of wind shelters for camping on my way back. It should be as close as possible from the halfway point. The Garub train station has four walls standing, so it makes a perfect shelter, but it's still too early. Apart from man-made structures, I can't imagine where else I would find something to shelter from the wind. It's a beautiful desert all around the road.
The dilapidated Garub train station is one of the stations of the Aus-Lüderitz line, apparently built in only 9 months by the Germans in the early 1900. The pro-Germans will use this historical fact to argue that Africa can work very well if the right people are in charge, others will point out that there were no work regulations at that time, and free labor from the enslaved local tribes. It has been now years that the government tries to rehabilitate it.
Today, the Sperrgebiet is controled by Namdeb, a holding unsurprisingly 50% owned by De Beers, the diamond mafia (directed by the former head of Alstom Transport), the other 50% belonging to the Namibian state. The composition is 40% desert, 30 % grassland, 28% rocky, but it all look desert to me. Because the entry is forbidden, I was told that if I am seen away from the only road, I will be spotted by satellites and picked up by a helicopter. I'm sure a lot of it is folklore, since a wannabe diamond digger would need a lot of equipment and time to make the smallest discovery there, but scary high-security stories are plentiful. I also heard that people used to hand pick diamonds on the beach. If it was still possible and open to anyone, a diamond wouldn't be "forever" and the whole De Beers advertising strategy wouldn't work so well. The Sperrgebiet was designated as a national park in June 2004, but it seems De Beers is delaying the Namibian government from opening the area to tourists. In the south, the road to Oranjemund, a "De Beers town", is now open to non-miners, but they are just allowed a limited time to travel between the two gates, as if someone wanted to make sure they don't go off road and bump by chance into a diamond …
I didn't go this fast in ages, maybe since the tar in Ovamboland, a few months ago. By 2 pm, I already cycled 70 km (leaving at 10:30). I had forgotten how tarred roads make things much faster than gravel roads. The sun is burning me quite hard, but I'm still enjoying the trip. With this speed, I'll be able to get to Lüderitz for the sunset on the pier.
I've been told the railway rehabilitation works have been abandoned somewhere in the desert, it might be here.
A few kilometers later, I pass another station in ruins, called Haalenberg.
I pay a visit to the dilapidated building, that would make a perfect shelter on my way back, 50 km from Lüderitz, 70 km from Aus. And there is a human here! He is watching the workers camp during the weekend. He says a crew of 10 is working here on weekdays, sleeping in tents, working on the railway. So it is not abandoned! And because they are here, not really with comfort, but at least with a diesel generator and water tanks, I can use Haalenberg also as a water-refill station! Perfect. I say goodbye and see you later, and continue onto Lüderitz.
This signs warns against hyenas until Lüderitz. I have 40 km and 2 hours of daylight left, so it will work fine until Lüderitz. Or so I thought. Because that small hill will change everything …
Just after that hill, the wind starts blowing from the south. Still a very strong wind. And that's terrible! I now have to cycle even downhill. And I have a ridiculous speed on the flat. I zoom on my GPS to check the road: from now on, it is zigzagging like a broken line between the dunes until the West coast of Africa. It means I am getting the wind slightly on my face, or slightly in my back, depending on the direction. Despite the shallow impact angles, the wind is strong enough to stop me or to push me.
If I were watching a movie of the sand blowing on the tar, like waves, it would certainly look be beautiful. But living it is a completely different story. I can't enjoy it. My legs are dead and a good effort takes me only a few hundred meters away. In this kind of landscape, if I turn back, it really looks like if I didn't move at all. That last stretch of the road is quite sandy, when the beginning was rockier. During gusts, the sand blows into my face … yes, I am being sandblasted. I will have a very smooth skin tonight, but that doesn't cheer up my mood.
It's still 30 km to the end. At that moment, I abandon the idea of reaching Lüderitz. I check closer the first two buildings I encounter, which are actually just large blocks for a pumping station. I can barely hide behind. The desert was so nice and beautiful an hour ago, and it now qualifies for the "hell on Earth" category. Maybe I can sleep at another train station in ruins, 20 KM from the end? Or at the airport, some 10 KM from the end. I've heard about a cyclist stranded in a sand storm who had to ask for shelter at that airport.
With all the sand flying around, there's no way I can take my dSLR out of my bag. I try to capture the really bad conditions with my P&S camera, but it doesn't work. And I really want to sleep indoors tonight. I had in mind that I would reach Lüderitz and rest a few days at a comfy place, with walls and a bed just for me, and it's just heartbreaking to consider now camping in ruins. I need a few lazy days, and it can start tomorrow only if I end up in town tonight.
Passing the Grasplatz station at sunset, I decide that I want my comfy night, and I'll make it to Lüderitz, regardless of the sand, wind, hyenas or whatever else coming in my way. It's 20 KM to go, so a minimum of 2 hours cycling during dusk and night. The zigzags make it easy to count down the distance: it's more or less 4 km headwind, 3.5 km tailwind, 3 km headwind, 2.5 km tailwind, 2 km headwind …
The sun disappears just when I pass the airport. Airport means here a dirt airstrip, a hangar, and two buildings that don't seem busy. Oh, the satellite picture shows a tarred runway, so maybe they clean the sand before the landing of an airplane. I also pass the Kolmanskop ghost town, which I will visit on my way back. There is a small ascent afterwards, which takes me ages to climb with the headwind. At that time, despite the quasi-nonexistent traffic of this road, there is a bus of mine workers stuck behind me. They are most likely coming from the Elizabeth Bay mine, behind Kolmanskop. For a very long minute, the bus drives at my speed, I'd say 8 km/h, behind my wheels, until the next turn into the "tailwind direction". The miners cheer at me while it overtakes.
The very last kilometers bring me at night to the first lights of the town, and I can finally contemplate civilization and comfort. Arriving at night in a new place and seeing the first lights is another special moment! My chain is making clunking noises, it sounds painful, as to echo my face trying to break into the headwind. I guess the flying sand managed to make a way through the chainglider.
And I'm finally in town! I made it! I was warned that cycling from Aus to Lüderitz would be painful, but I didn't imagine what it would feel to be facing a combo headwind/sandstorm in the desert. It's indeed painful.
The town is deserted, as a small town on a Sunday night, but the gas station attendant directs me to the backpackers. I can't wait to shower and lie down in bed. My legs are dead and my face feels sandy. It was actually physically painful when the sand was blasting my neck.
Once there … the backpackers has no lights on. The doors are closed. Noooo …. that would be way too unfair! I hadn't checked availability, and relied on people telling me about it a few days ago. Well, let's call that number printed on the door.
It appears that the owners are away, so the neighbors are taking care of it for the night. And since there are only two guests, including me, we are invited for dinner at Doris and Ian's. Food, wine, beers, and unique stories about diamonds from the former manager of the port of Lüderitz. It couldn't have ended better! Especially considering I had seen myself camping 20 KM away, in the wind, in the sand, behind a wall of ruins. And it's another day as emotionally heavy as a whole month of "normal life". Tomorrow I will have to toothbrush-clean my chain very well, but also to raid the supermarket!
The town of Lüderitz was founded in 1883, even if the bay of Angra Pequena had been "discovered" four centuries earlier by Bartolomeu Dias, a Portuguese explorer slightly contemporary of Diogo Cão, who erected a padrão cross at Cape Cross, where I saw the fur seal colony. Lüderitz is the first foot of Germany into German South-West Africa, starting in 1883 when Adolf Lüderitz, a merchant from Bremen, purchased an immense plot of land, as large as the Sperrgebiet, to a local Nama chief, with money and rifles. Lüderitz then transferred his rights to the German government of Bismarck.
Finally "off duty", I can stroll in the city and try to figure out why I came until here. It has a very relaxed atmosphere, without feeling like a coastal resort.
The Woermann line was a Hamburg shipping company, later on integrated into today's giant Hapag-Lloyd, part of TUI. I had seen a map of their routes in the Tsumeb museum. It was at the time the main transportation line between Germany and Namibia. Today, one can easily spot Woermann almost everywhere in Namibia, via the Woermann & Brock supermarkets, one of the largest trading company of the country.
Walking past the lighthouse, I am now standing on Shark island (Haifisch Island), which is a bit of a shameful nonsense in itself. Not geographically (it was an island until 1906, before being connected to the city), but historically: if it is today a campsite for tourists, and way too windy for the tourists who have to camp outside of their car, it has been a concentration camp for 3 years, between 1904 and 1907. It is believed that 2000 prisoners lived on that tiny island, and were used to build the railway and the port. Half of them died due to the poor living conditions. Numbers from Wikipedia are much higher. Germany has recently recognized the killings of the Nama and Herero people as a genocide.
So, in short, the Nama people, which form the largest group of the Khoikhoi people, the original nomadic inhabitants of Southern Africa before the Bantus migrated south, have been, alongside with the Herero people, reduced to 20% – 50% of their initial population, and Shark island played a big role in that extermination. Yet, what is the largest memorial stone on Shark Island? A memorial to a ship that sunk in the bay. The island remains for sure one weird campsite.
Past the campsite, I walk through the small streets of Lüderitz. I prefer that experience to Swakopmund, the touristiest city of Namibia that puts its German architecture forward. It looked more like Disneyland to me, while Lüderitz has untouched buildings that didn't get turned into a Shoprite.
Just above the church is erected the Goerke Haus, the poshest house of the town, also with the best views on Lüderitz. It was first built in 1910 as the residence of a lieutenant of the German schutztruppe, and then belonged to Consolidated Diamond Mines of SWA (De Beers already), to be finally abandoned. It has been restored by Namdeb (still De Beers) and is now used to host Namdeb diamond people. But when it's not hosting, the house is open to the public, and I could see how were the German living in the middle of the desert a hundred years ago:
The views from the top window of the Goerke Haus are unbeatable.
The day ends with a drink at the harbor with Céline, a delicious springbok cooked by Doris, and a book about the Sperrgebiet borrowed from Ian. A book about the secrets of the diamond restricted area, perfect for my "diamond exploration tour" coming up!