I was doing my business on a large rock this morning, with a view on the Ruacana dam lake, when a small crocodile ran past me! I must have surprised him and he rushed to the water. The warning against bathing there was not a joke, and it was a wise decision not to take a swim yesterday at night.
It was also safer to mount my tent a bit away from the shore. As it's a dam reservoir, I knew the water level can be controlled. And it was indeed higher when I woke up.
Later on, I realized that the baby crocodile was probably not one. There are indeed crocodiles in these waters but what I see everywhere are big monitor lizards. They can easily be a meter long.
I pack my tent under the light rain and plan to cycle around the dam and the Ruacana falls before going to the border post in Ruacana town, some 10 or 20 km upstream. Wandering around a dam in Angola, with a camera, I will probably be arrested at some point, but I give it a try. I also want to see the Ruacana falls from the Angolan side before changing country.
The Ruacana dam is, alongside with the Calueque dam some 20 km upstream, feeding the 240 MW (3 x 80 MW) power station. Ruacana is a joint project between Angola and Namibia: the dams are in Angola while the power station is in Namibia. The catchment area of the 1000 km long Cunene river goes up to Huambo in Angola.
There are NamPower signs already.
To my surprise, no one arrests me while I am crossing the narrow road over the Cunene river while photographing the weir. Luckily there is very little water. If the water was up to the rocks, it wouldn't be possible to cross here. The water is actually flowing inside a 8-meter diameter underground tunnel between where I camped and the power station.
Further adding to my surprise, I don't reach the Ruacana falls here: there is a border post. "Is it the Ruacana border post here?", I ask, almost sure that my maps show it 20 km east, at Ruacana town. "Yes it is".
Okay, that's good luck. Had I gone 20 km east, directly to where I thought the border crossing was, without wandering around the dam, I would have to make a disappointing U-turn. This is a brand new border post, with fancy buildings, in the middle of nowhere, at the end of a gravel road. Namibia and its perfect roads are 20 meters further. I can imagine tourists travelling from Namibia to Angola via this crossing, they'd feel like they drop from the 1st world to the 3rd world in a 5 minute drive.
Still, I want to see the Ruacana falls from both side of the border, just like it is interestingly possible at the Victoria falls, from Zimbabwe and from Zambia. They say there is no road to the falls from the Angolan side. I'm sure there is one, but considering the quasi-nonexistent tourism in Angola, it would look more like a cow path.
Well, I'm excited about entering Namibia, and decide it's not worth it to spend two or three hours making my way in the bush on this side of the falls. I get stamped out of Angola, seamlessly, after 51 days in the beautiful country and a good 20 or 30 controls by the immigration or the police.
The official viewpoint of Ruacana falls is located on the Namibian side, but between the two immigration posts. As a result, I can go there directly from Angola without checking into Namibia yet.
Dry falls … they are far away from looking like in Victoria … the falls here should be looking like this. I am told that since the water is diverted underground to the hydro power station, the falls are only "working" in April, when there is enough water for the power station AND the waterfall. I am a couple of weeks too early.
Well, I don't feel that disappointed by the dry falls. I feel satisfied not to have struggled on the other side just to see stones. And especially, I feel like this border-crossing and 22000 KM milestone is a huge achievement: around me, Namibians are drinking with music (it's Saturday) in their Toyota pickups. They speak English. There are electricity and good roads here. Namibia is my last country before South Africa. I don't need a visa to enter these two.
I spend a while contemplating the dry falls. Is it the end of adventure? No more mud roads. No more hot and humid rainy season. No more eating cassava. No more eating the same food for days in a row. No more begging for visas at Embassies. No more being hundreds of kilometers away from the first supermarket or thousands of kilometers away from a shop with reliable bike spare parts. No more painfully slow internet. No more people thinking the White man and the Black man are different by nature (hopefully). No more nonsense talks to explain things that happen only in Africa (hopefully) …
Namibia and South Africa will be very beautiful and not easy to cycle: adventure is not over, but hard times are behind me. Still 3000 kilometers from my destination, a sense of peace and achievement is washing over me. After where I come from, I believe everything will be easy. Or at least, easier.
The tar road starts just after the Namibian immigration post. This border not only delimitate two countries, but also two worlds, like the border between Arabic Mauritania and African Senegal. I need my entry stamp. It is the first country after Senegal where I can get three months without visa and without paying a hundred US dollars (NB: Senegal changed its immigration policy, and is asking for a visa today). The only officer is on his lunch break.
Once back, he tells me to fill in the entry form and will grant me 30 days.
"– What? 30 days? I thought all tourists are allowed in Namibia for three months?
– No, it's 30 days.
– You see, I'm cycling, there is no way I can reach South Africa within 30 days.
– Grmbll okay, I'll give you two months.
– And why two months? It says on the internet I should get three months.
– Grmbll grmbll …"
I finally get these three months. Namibia lays between parallels 17°S and 29°S, and is comparable in size with Angola (5°S – 17°S). I will need between one and two months to cross it. I don't know why the immigration officer didn't want to let me in with three months … but well, Namibia, here I am.
And now, I am on the tar. It doesn't mean I have not seen the tar in Angola or before (where some new Chinese roads are very good). It's just that a tar road in such a remote location is still exceptional to me. I let myself cycle downhill enjoying a first world infrastructure, still effortlessly propelled by that same feeling of achievement and closeness to the end.
Until a car almost drives into me. I am on my right, the car is on its left. Oh right, I have to switch sides now. Namibia and South Africa are two of the few countries with left-hand traffic. Many countries have abandoned this legacy of the British Empire rule. I'll have to reverse my handlebar mirror too.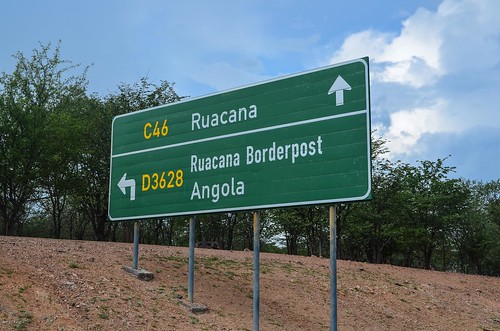 It already looks like South Africa, where I lived in 2011: the road signs use the same color and font. Some place names are in Afrikaans (a spin-off language of a Dutch dialect, spoken in South Africa and Namibia) like Swartbooi's Drift where I am heading to. There is a shebeen at the first crossroads, selling South Africans alcohols and displaying a huge Klipdrift poster. The Namibian dollar (NAD) is tied to the South African rand (1 NAD = 1 ZAR). The South African FNB and Standard Bank are present here.
It's not a surprise. Namibia is a very young country, independent only since 1990, from South Africa.
I get at the shebeen a bottle of Amarula and peanut butter while the thunder rolls. My goal is still a few rest days at a "lodge that has wifi" recommended by Dave, which was just across Chitado that I passed yesterday. But with all the time I spent around the Ruacana falls, I doubt I will be able to reach it before night. Plus, the rain is now pouring, and I shelter under the veranda of the Hippo Pools campsite.
The dirt road is in a very good state. I am basically just going down the Cunene river for 40 km on the Namibian side, after having cycled it up for 40 km on the Angolan side yesterday. It is the same land, but much easier on this side. Even if it starts with a steep slope through which I have to push hard.
This slope is twice painful, because of my shoes: I still have the size 44 (1 too short) Chinese pair bought second-hand in Angola, of which I cut the tips so that my toes are not squeezed. Today, they are worn off enough to have holes in the soles. My feet are thus touching the ground, it's not much different from walking barefoot on gravel and pushing a bicycle. May Namibian supermarkets sell size 45 …
Not only the road is in much better condition, tourism is also back! There are camp sites (the place you pay for mounting your tent, it sounds weird to me for now, but I'll maybe fall for the hot showers and electricity) and luxury lodges.
Where did I last see tourists? They are plentiful in Morocco (especially French people), they are many on the coasts of Senegal (French again), too many on the short coast of Gambia (for everyone else who doesn't speak French), a little bit in Ghana, a little bit hiking in the mountains of Cameroon, and that's it. So, basically, tourism is an alien concept between The Gambia and Namibia (12000 kilometers only). That's another factor that makes me feel out of the "real Africa not-very-comfortable experience".
These campsites with hot showers in the middle of nowhere could as well exist in other countries, if people dare to tackle the opportunity. There's no fundamental reason that makes them restricted to Namibia.
Just before night, I am stopped by two Himba girls on the road. It is their land. They live in rudimentary villages. They speak no English at all, except one word: "money". Just like in Angola, no money = no photos. Their hair is very long, braided, and each braid is covered by a hose of red mud. Their bare-chested skin is also painted with red powder, and their neck with black sand.
I am now cycling through the Cunene region of Namibia, adjacent to the Kunene province of Angola, both inheriting their name from the river that separates them. I can't reach the lodge I want to camp at, so the 30 remaining kilometers will be for tomorrow.
I get rain during a good part of the night and must pack my tent wet. My morning bike inspection reveals that my front tire won't last for much longer. I had swapped front and back tires in Congo to make them last longer. It works (12000 km on both now) but it's dangerous to have a used tire on the front wheel. I'd better swap it for my Chinese spare tonight.
The road was good yesterday, but today, after quite some rain, it is another puddle challenge.
Roads are made of sand and water today. It's beautiful around, but these 30 km will last quite some time if I keep making detour to avoid the water.
The not-so-bad point about sand is that it doesn't stick to my tires and fenders. However, at one point, I hear something rubbing on my front tire. I brake and stop to see where it is clogged up. But it is not clogged up: the tire bead has broken and the inner tube is popping out like a skin tumor. I can only observe it for a second, that … BANG! The loud noise reverberates in the Kunene valley. Here's my original Schwalbe tube exploded.
Very bad news, but very lucky that I was not riding the bicycle at the moment it exploded. It's okay if it happens on the rear tire, but it's dangerous if the front one explodes, as it's much harder to keep the balance.
I push my bicycle until a large puddle to change the tire. My Chinese spare, bought in Dakhla, Western Sahara, will save me again. I used it in Mauritania to replace the original rear tire, showing advanced signs of wear. In Dakar I got new Schwalbe ones, and since then, this Chinese tire was sitting on my rear panniers, doing no more than holding them together.
I fit the new tire in, only to realize that the tube is not inflating, it has a puncture. It's not in my habits to carry a punctured tube, but maybe I hadn't applied the patch correctly before storing it. Well, that gives me another chance to remove the wheel and re-patch, and that's when the water puddles become handy to find the puncture.
When it's a bad day, anything wrong will happen. I slip and fall in the water puddle. I was saying yesterday that hard times and shit roads are over … but it seems there is some latency.
On the other hand, I finally get a picture of Himbas. They were passing by with a log on fire while I was in my mess. The were the only people I saw. They didn't ask for money for too long and even took poses for my camera.
Two hours later, I'm back cycling. I hope my Chinese tire will work until the tar, I have to be more careful for thorns now. And after all, it's not everyday and everywhere that one can blow up a tire and give the tube to Himba women!
I should be at the lodge already, but out of the short 30 km I had to cycle today, I have 20 left. It's not easy with the water, sand, and a Chinese tire in a thorn paradise.
Time passes and I'm getting too hungry. Time for roadside spaghetti by the river.
After seven painful hours to cover 30 kilometers, I finally make it to the Kunene river lodge. It's a steep 12 USD for camping (more than for any small hotel in other countries) but … Wifi! Hot showers! And the owners let me "camp" in a storage room. Very good news as I am fed up with the rain.
It's now time for celebration. During all these months in gastronomically impaired countries, I have been almost dreaming about something very common in South Africa: cheap and delicious big T-bone steaks. And here I get it already, sitting over the Cunene river, facing Angola, in a remote piece of paradise.